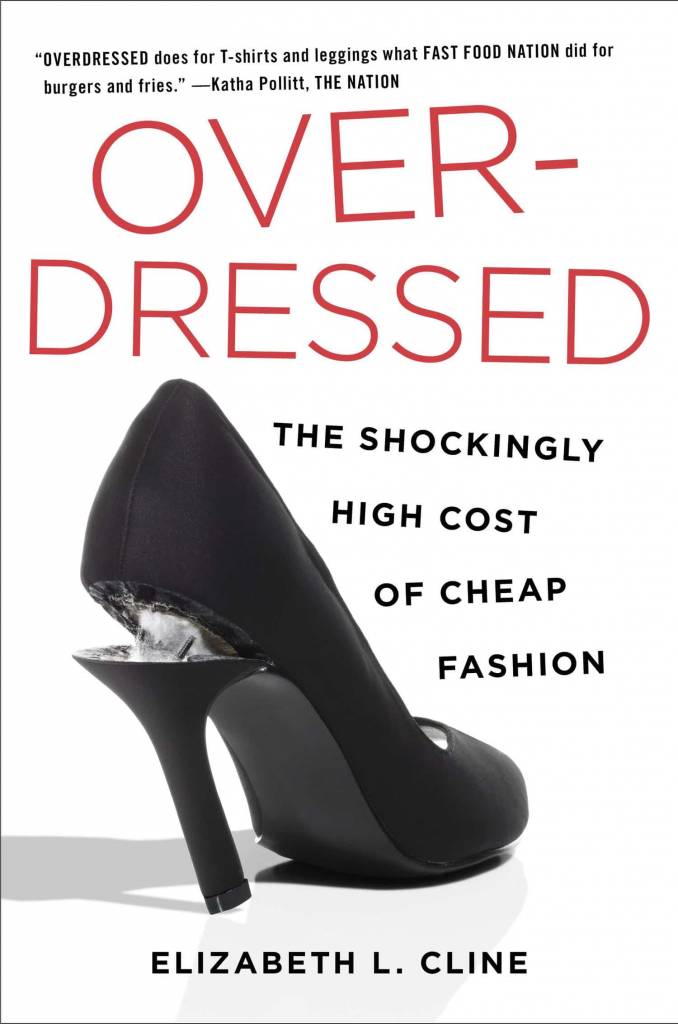 If you've shopped with us, visited our store, know us personally, or even read our blog, you have a good idea how passionate and proud we are that our Lousje & Bean clothing line is 100% Canadian Made. Sourcing our fabric from local suppliers, having our pieces made by seamstresses right here in Ontario, and using our own original designs, we ensure that our entire creative and manufacturing process takes place in Canada. This is important to us for many reasons, including quality control, supporting our local economy, preserving the highly skilled art of sewing, and creating timeless pieces that will stand up for years to come and will not be disposable. We love making clothes in Canada, for Canadian women who truly appreciate the craftsmanship and dedication that goes into each and every piece. These reasons alone have always been more than enough to remain proudly Canadian, however, after recently discovering the book Overdressed: The Shockingly High Cost of Cheap Fashion by Elizabeth Cline, we have further realized the positive impact that locally made clothing has on our lives and the environment. We thought we'd share a little bit of what we have learned from reading this book in the hopes that you, too, may discover a new perspective on how the changes in the fashion industry and our buying habits are affecting more than just our wardrobes.
An Excerpt from the book:
Until recently, Elizabeth Cline was a typical American consumer. She'd grown accustomed to shopping at outlet malls, discount stores like T.J. Maxx, and cheap but trendy retailers like Forever 21, Target, and H&M. She was buying a new item of clothing almost every week (the national average is sixty-four per year) but all she had to show for it was a closet and countless storage bins packed full of low-quality fads she barely wore—including the same sailor-stripe tops and fleece hoodies as a million other shoppers. When she found herself lugging home seven pairs of identical canvas flats from Kmart (a steal at $7 per pair, marked down from $15!), she realized that something was deeply wrong.

Cheap fashion has fundamentally changed the way most Americans dress. Stores ranging from discounters like Target to traditional chains like JCPenney now offer the newest trends at unprecedentedly low prices. Retailers are pro­ducing clothes at enormous volumes in order to drive prices down and profits up, and they've turned clothing into a disposable good. After all, we have little reason to keep wearing and repairing the clothes we already own when styles change so fast and it's cheaper to just
buy more.

But what are we doing with all these cheap clothes? And more important, what are they doing to us, our society, our environment, and our economic well-being? In Overdressed, Cline sets out to uncover the true nature of the cheap fashion juggernaut, tracing the rise of budget clothing chains, the death of middle-market and independent retail­ers, and the roots of our obsession with deals and steals.

Sewing, once a life skill for American women and a pathway from poverty to the middle class for workers, is now a dead-end sweatshop job. The pressures of cheap have forced retailers to drastically reduce detail and craftsmanship, making the clothes we wear more and more uniform, basic, and low quality. Creative inde­pendent designers struggle to produce good and sustainable clothes at affordable prices.

Cline shows how consumers can break the buy-and-toss cycle by supporting innovative and stylish sustainable designers and retailers, refash­ioning clothes throughout their lifetimes, and mending and even making clothes themselves.

Overdressed will inspire you to vote with your dollars and find a path back to being well dressed and feeling good about what you wear.
Elizabeth Cline has opened our eyes to how we ourselves shop and the importance of maintaining our standards and mandate to remain Canadian made. While we are not perfect and find it extremely difficult to avoid all overseas purchases in our own lives, we do strive to remain as conscious as possible when shopping for ourselves and the store. Not everything will be North American made but there are plenty of nations to support in a responsible way. For instance, while our fabric is sourced from local suppliers, the textiles themselves are often made in Europe by artisans in a sustainable and conscious manner. We pay more for these fabrics that are built on quality by designers and manufacturers who were paid a fair wage and are masters of their craft. When you purchase our clothing you can be sure that it has been made responsibly, with attention to quality and sustainability at every step, and you can guarantee you won't find a cheap, Chinese made replica of our pieces sold for pennies on the dollar in other stores. We are committed to providing you with one-of-a kind designs, tailored to perfection (by the way- did you know we offer free alterations on any of our regularly priced pieces?), and made to last.
We hope you learned a little about Fast Fashion and gained an understanding of why we think making and designing our pieces in Canada is so important, the cost of doing so that is reflected in our pricing, and why those other cheap clothes aren't as cheap as you think!
Tell us what you think- do you agree with the message of Elizabeth Cline's book, or are you a die hard trend shopper?