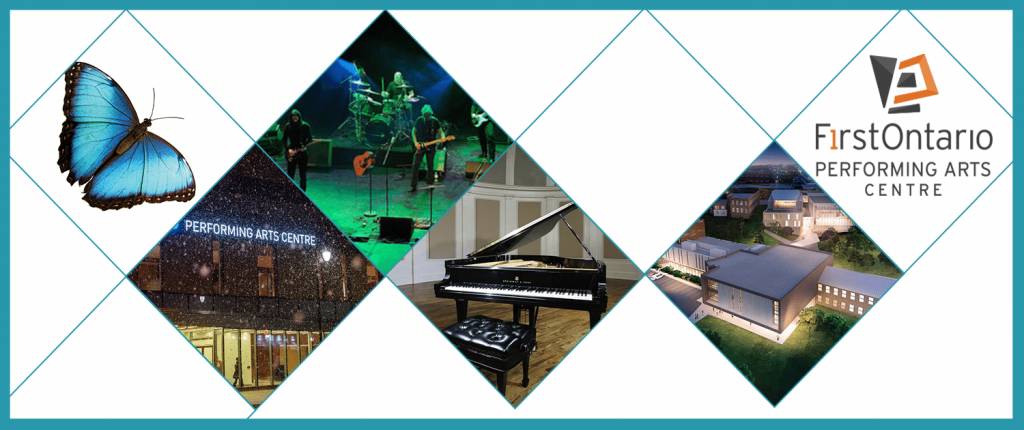 We are so excited for the addition of the
First Ontario Performing Arts Center
to St. Catharines. Opened in Fall of 2015, the First Ontario Performing Arts Centre is a 95,000 square foot cultural complex comprised of four state-of-the-art performance venues: Partridge Concert Hall, Cairns Recital Hall, Robertson Theatre and Film Hall. The state of the art facility is located in the heart of downtown St. Catharines, on the corner of Carlisle and St. Paul streets, adjacent to Brock University's Marilyn I. Walker School of Fine and Performing Arts. The Performing Arts Centre is a vital component in the renaissance of St. Catharines, serving as a catalyst in thoroughly modernizing the area and reinforcing the brilliance of Niagara Region's diverse cultural cluster. We dropped in to one of the free concert series sessions at Cairns Hall within the Performing Arts Centre and we were blown away by the talent we saw. This is a fantastic night out with the girls or a great date night idea and, best of all, it is free! You can view the schedule
here
.
On February 23rd, 2016 the Film House finally opened and we are so excited to be able to view some amazing films in such a beautiful setting. The first few weeks following the opening will feature a selection of the 2016 Oscar nominated films so if you missed them on the big screen, now is your chance to see them how they were intended to be viewed. The Film House will run 8 – 10 screenings a week, with themed or genre-specific nights, so if audiences aren't familiar with a particular title, they can still have an idea of what to expect. For instance, Saturday afternoons are dedicated to family films, while Wednesdays evenings are reserved for documentaries. The film season also offers affordable snacks and the licensed venue allows the enjoyment of wine or beer from your theater seat! There is no movie that can't be improved with a glass of wine! :)
PAC facts:
•4 performance venues
•600 events annually
•125,000 visitors annually
•500 Brock University students daily
•7 day-a-week activity for 48 weeks a year
•20 full-time staff, 70 part-time staff, hundreds of volunteers
The Performing Arts Centre is such a fantastic and welcome destination to the city, we can't wait to experience the variety of arts and films there. With family friendly shows, concerts, movies, and performances, there truly is something for everyone. Join us as we explore this cultural addition to the Neighbourhood!