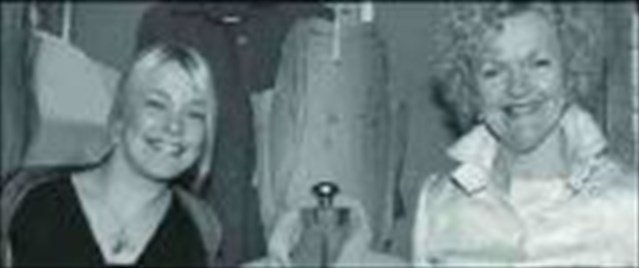 Bitten by fashion bug, mom, daughter launch line
NEWS May 05, 2006 Niagara This Week - St. Catharines
Bitten by fashion bug, mom, daughter launch line
Tessa and Lous Oort have combined their creative juices to create a line of new and dynamic European influenced fashion designs. They will host their first fashion show at Addison Hall in Niagara-on-the-Lake May 12.
NIAGARA-ON-THE-LAKE -- Lous Oort once had a shop in Port Colborne where she worked on costumes for a local theatre company. But once her family began to expand, her love for fashion took a back seat as she raised her four children.

"The shop went and the children stayed," said Lous. Many years later the fashion bug was instilled in Lous' daughter Tessa, who graduated from George Brown College's fashion techniques and design program. With both mother and daughter sharing the common ideals of style and chic, it was only fitting that the two combined their passions for fashion with the goal of creating a unique product.

The result is "Lousje and Bean," a new and dynamic women's fashion line with an influence of European flavours, style, and flair.

Conceived this past January, the Oorts' line of clothing features a unique look that can be worn for any occasion.

"Our line can be best described as functional, yet funky," said Lous.

"And they're all made of natural fibres, there's a lot of linen," said Tessa.

Spending many a day crafting their fashion between their showroom in Grimsby and workshop in St. Catharines, the duo have put together a line of 14 pieces, which will be showcased at their inaugural fashion show at Addison Hall in Niagara-on-the-Lake May 12.

Because of the European influence, the clothing will have a slimmer fit, with sizes ranging between 34 to 48. However the clothing can be custom tailored for fuller sizes. It is the Oorts' dream to one day to have their own boutique shop in Toronto's Bloor West Village, but they are taking baby steps in order to one day make it a reality.

For now, the pair have been doing private home showings and their designs will be for sale at Jordans (84 Queen St. in Niagara-on-the-Lake) in the near future.

"The home shows have been successful and we've had very positive feedback," said Tessa. "Our fashion show will be a celebration of our work."

Addison Hall is at 41 Byron St.. Doors open at 7 p.m. Tickets are available via email at [email protected] or by calling 905-309-0159.